Bearing World Conference 2018
BEARING WORLD on the road to success
More participants, more presentations, increased international participation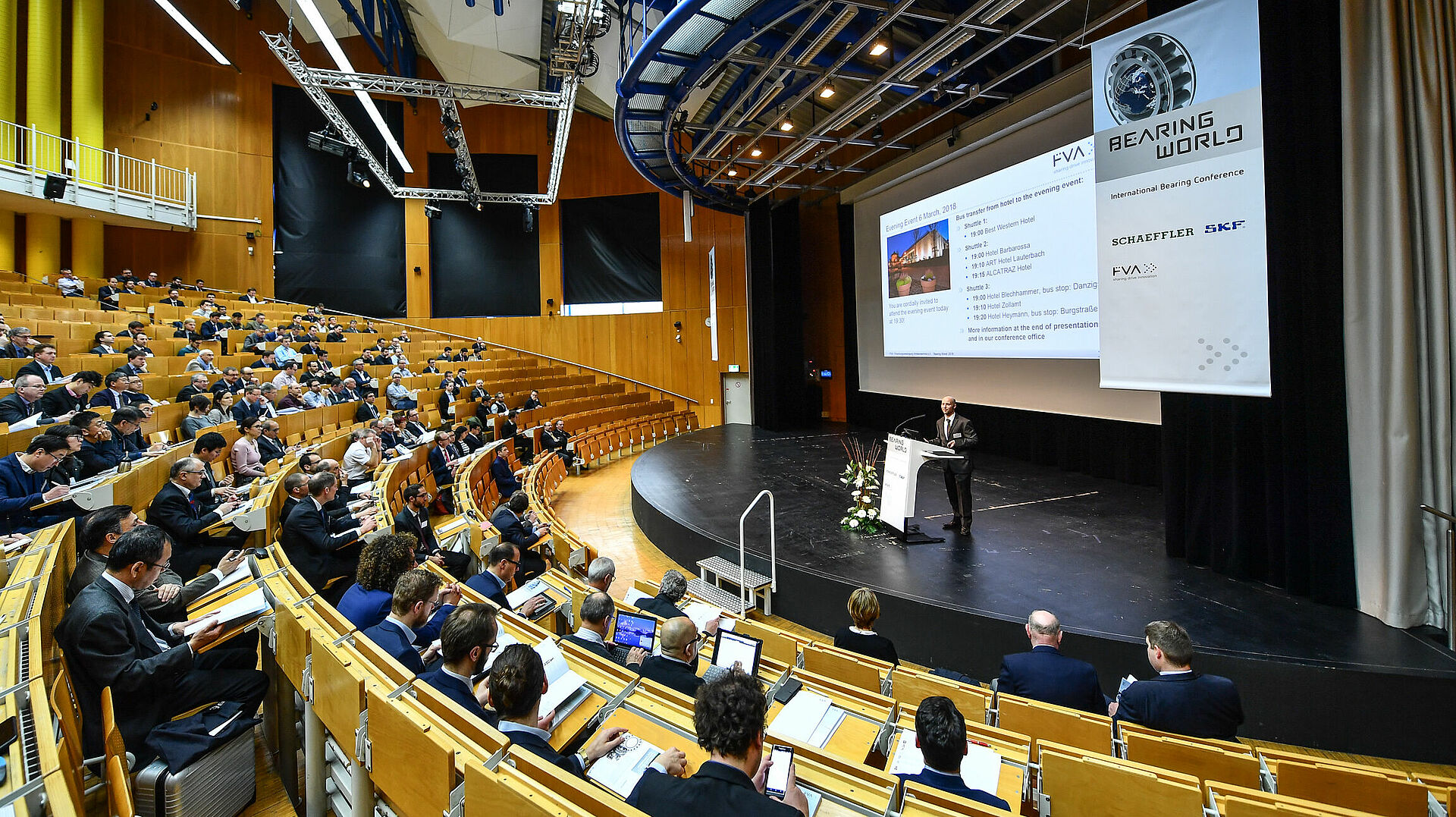 New professions, predictability, digitalization and changes in mobility are among the key challenges in the rolling bearing industry
Frankfurt am Main/Kaiserslautern, March 8, 2018: Bearings are the heart of any machine – this holds true both for industrial applications and automotive engineering. Rolling bearings are an essential design element in all technologies where there is movement. BEARING WORLD focuses on all aspects relating to rolling and plain bearings. This year's edition of the international scientific expert conference on bearings was organized for the second time by the Forschungsvereinigung Antriebstechnik (FVA). Hosted by Prof. Bernd Sauer, the conference under the motto "Industrial Research and Science in Dialog with Practical Application" was held at the TU Kaiserslautern from March 6 to 7, 2018. Prof. Bernd Sauer is the chair of the Institute of Machine Elements, Gears and Transmissions (MEGT) at the TU Kaiserslautern, which ranks among the world's leading research institutes in the field of rolling bearings. The next BEARING WORLD will be held in 2020.
Considerably higher attendance from Germany and abroad
More than 250 participants (2016: 200) from 18 countries (2016: 11) accepted the invitation to the expert conference in Kaiserslautern. The considerably higher attendance from Germany and abroad reflects the great interest among industry and science representatives in high-level international exchanges on scientific topics. BEARING WORLD was initiated by the FVA in 2016 to focus on the increasing internationalization of rolling bearing markets and the resulting need for stronger international collaboration in research and development. The conference in 2016 marked the first occasion for the FVA to address an international audience. As of 2018, all FVA conferences will focus on an international perspective, thus pushing ahead with their strategy of increased global networking.
High-level keynotes by international experts
In addition to presentations on plain bearings, the conference succeeded in providing a comprehensive overview of the latest research and development activities in the field of rolling bearings. Victoria van Camp, SKF Group, Sweden, and Prof. Tim Hosenfeldt, SCHAEFFLER AG, shed some light on future challenges for bearing manufacturers in their keynotes.
Key topics of the conference included reliability and efficiency, and other key areas such as energy efficiency, damage types, bearing calculation and dimensioning, applications in power transmission, operational stability and service life. 17 of a total of 44 presentations were held by international experts from scientific research institutes and corporate research departments.
Networking and interdisciplinary collaboration are the keys to success
"Predictability is becoming even more important than longer service life. This means that our bearings experts also need to specialize in interpreting data from sensors and using this data in their predictions. We think that mechanical engineers need to become mechatronic engineers. At SKF, we are establishing teams that consist of data scientists and mechanical engineers because they can learn from one another", said keynote speaker Dr.-Ing. Victoria van Camp, President, Innovation and Business Development, SKF Group, Sweden, in describing the most important challenges facing the rolling bearing industry. In addition, it will become all the more important to be able to make reliable predictions on operation and operating states and to offer solutions to tackle the issues of increasing digitalization.
Mega trends and electromobility require new solutions
In his keynote, Prof. Dr. Tim Hosenfeldt, Senior Vice President Technology Strategy and Innovation at Schaeffler AG explained how global mega trends such as climate change, globalization, urbanization and digitalization affect the corporate strategy and product portfolio of a mobility provider and rolling bearing manufacturer such as Schaeffler. Most importantly, their effect on the mobility of the future makes it necessary to develop entirely new solutions and products in the rolling bearing industry, for example with regard to the dynamic development in the field of electromobility. "The evolution of mobility is in full swing, making it necessary for mobility service providers such as Schaeffler to address the changes ahead. The greatest challenge we are facing will be to adopt an ambidextrous approach, which means being capable of using both hands to equal measure at the same time. Translated to corporate level, we need to further improve tried-and-test technologies while simultaneously exploring new mobility solutions", said Tim Hosenfeldt.
International networking is key to meeting the challenges of the future
Hartmut Rauen, VDMA Deputy Executive Director and Managing Director of the FVA is convinced that the research association is on the right track: "When it comes to tackling future challenges such as digitalization, electrification and sustainable management, international networking of industry and science is simply indispensable. With BEARING WORLD, the FVA offers the leading global platform for high-level scientific and technical exchange."
BEARING WORLD JOURNAL annually presents important research findings
The BEARING WORLD conference is held every two years. The FVA's BEARING WORLD JOURNAL serves to foster exchanges among international experts between the conference years by featuring peer-reviewed, high-quality scientific papers on rolling and plain bearings. As an international expert platform for publishing cutting-edge research findings, the journal is intended to contribute to technological progress in the field of bearings.
Visit the websites at: www.fva-net.de — www.bearingworld.org
Participants 2018
Participants from industry and research, from the countries:
Austria; Belgium, Czech Republic; China; Denmark; France; Germany; Great Britain; Italy; Iran, Japan; Kuwait; The Netherlands; Nigeria; Spain, Sweden; Switzerland, Turkey, USA
Industry
ACCIONA ENERGIA; AFC-Holcroft Europe; AICHELIN; Allianz Zentrum für Technik; Aßmann Ingenieurdienste; Atlas Copco Airpower; BestSens; Bosch Rexroth; BP Europe; Carl Bechem; Conti Temic microelectronic; Daimler; Dow Silicones Deutschland; ebm-papst; eolotec; Evonik Resource Efficiency; Fersa Bearings: Festo; Flender; FUCHS LUBRITECH; FUCHS SCHMIERSTOFFE; FVA GmbH; Georg Martin; Georgsmarienhütte; GETRAG; GETRAG FORD Transmissions; GMN Paul Müller Industrie; GRW Gebr. Reinfurt; GTL-Getrieberechnik Leipzig; Harmonic Drive; hofer eds, Honda R&D Co.; IK4 TEKNIKER; ILJIN Bearing; IMO; Jaguar Land Rover; Jesko-Henning; Jiangyin Jingcheng Compter Numeric Control; John Deere; Klüber Lubrication München; Kugel- und Rollenlagerwerk Leipzig; Kuwait Oil Company; Leybold; Lubricant Consult; Liebherr Components Biberach; Lubrizol Deutschland; MAN Diesel & Turbo; MESYS; NSK Europe; NSK Japan; NTN-SNR Roulements; NTN Wälzlager (Europa); ORS Bearings; Phoenix Tribology; PROSINO; Punch Powertrain; RENK; Robert Bosch; RWG Germany; Sanat va Energy; SCANIA Engines; Schaeffler; Schüssler Technik; Senvion; SEW-Eurodrive; Shanghai Bearing Technology Research; Siemens Gamesa Renewable Energy; SIMPACK; SKF Deutschland; SKF Sweden; SKF The Netherlands; SMT; STLE; Stresstech; Sukeem Nigeria Limited; THIEHLENHAUS TECHNOLOGIES; thyssenkrupp Rothe Erde; Timken Europe; Timken France; TSUBAKI NAKASHIMA; TOTAL Deutschland; Vestas Nacelles Deutschland; Vestas Wind Systems; Voith Turbo; Volkswagen; ZF Friedrichshafen; Ziller
Institutes
Brno University of Technology;Chemnitz University of Technology Department of Mechanical Engineering Institute of Design Engineering and Drive Technology (IKAT); City University of Hong Kong Department of Mechanical and Biomedical Engineering; Clausthal University of Technology Institute of Tribology and Energy Conversion Machinery; Engineering and Drive Technology; Competence Center for Tribology at the Mannheim University of Applied Sciences; Engineering Design; Fraunhofer Institut for Mechanics of Materials (IWM); Institut für Windenergie und Energiesystemtechnik (IWES); Friedrich-Alexander-Universität Erlangen-Nürnberg;Imperial College London; INSA LyonResponsable Equipe Tribologie et Mécanique des Interfaces (TMI) Laboratoire de Mécanique des Contacts et des Structures (LaMCoS); Institut Pprime CNRS;KTH Royal Institute of Technology Stockholm; Leibniz University HannoverInstitute of Machine Design and Tribology (IMKT); Leibniz-Institut für Werkstofforientierte Technologien – IWT, Nagaoka University of Technology Department of Mechanical Engineering; Purdue University School of Mechanical Engineering West Lafayette (IN); Qingdao University of Technology; Ruhr-University Bochum Werkstoffprüfung; RWTH AachenUniversity Molecular Science and Engineering (MSE); Laboratory for Machine Tools and Production Engineering (WZL); Shanghai University; Technische Universität Bergakademie Freiberg Institute for machine elements; design and manufacturing; University of Cambridge; University of Erlangen-Nürnberg (KTmfk); University of Kaiserslautern Institute of Machine Elements; Gears and Transmissions (MEGT); Université de Liége; University of Poitiers;University of Sheffield; University of Zaragoza (Fersa-Bearings)
Exhibition
Industry
AICHELIN; Carl Bechem; Forschungsvereinigung Antriebstechnik e.V. (FVA); FVA GmbH; FUCHS SCHMIERSTOFFE; Gesellschaft für Tribologie e.V. (GfT); Georg Martin; Phoenix Tribology; PROSINO; Schaeffler; SIMPACK Center of Excellence; SKF; Stresstech; Ziller
Institutes
Chemnitz University of Technology (IKAT); INSA Lyon; Leibniz-Institut (IWT); RWTH Aachen (MSE), Leibniz University Hannover (IMKT); University of Kaiserslautern (MEGT); University of Erlangen-Nürnberg (KTmfk)
Media partners
antriebstechnik; Bearing News; lubricants; World of Industries